Slate Chips by Buckingham Slate
Buckingham Slate produces top-quality L-Series slate chippings perfect for landscaping projects. Generally, our slate chippings cover 100 sq. ft. per ton based on 1″-2″ depth. We have supersack offerings available for all sizes. Please review our Benefits & Disclaimers before placing an order.
L-5 Slate Chips

Size: 3⁄4" – 1 1⁄2"
L-57 Slate Chips

Size: 1⁄2" – 1 1⁄4"
L-8 Slate Chips

Size: 3⁄16" – 1⁄2"
L-9 Slate Chips

Size: 1⁄8" – 3⁄8"
Slate Sand

Size: 1⁄8" and smaller
Trail Blend

Size: 1⁄2" – Dust

Applications: Parking lots, Driveways, Walkways, Paths/Trails, Water Features, Landscaping, and more.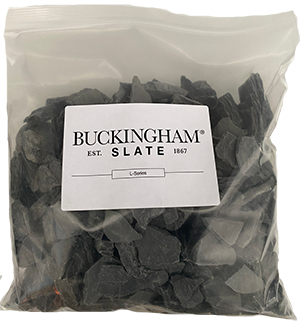 Frequently Asked Questions
What are slate chippings?
L-Series slate chippings are small, flat pieces of slate, also sometimes referred to as slate aggregates. They are typically used for decorative landscaping purposes, typically as the material for paths, adding a unique look to outdoor spaces.
Where do slate chippings come from?
L-Series slate chippings are created by crushing top-quality slate down into small pieces. Our crushing technology allows us to create slate chippings in specific sizes with great precision.
What are slate chippings used for?
The usual purpose of slate chippings is to create beautiful landscaping features. They can be used for paths, mulch beds, driveways, edging, and more. As a secondary benefit, landscaping elements made from slate chippings help to deter weed growth.
Can you walk on slate chippings?
Our L-Series slate chippings are intentionally crafted to be flat, making them safe to walk on.
What do you put under slate chippings?
This depends on your project and where you're using your slate chippings. You can add elements like larger stones underneath for a sturdier base. You can also include weed-resistant membranes to additionally deter weeds. This will all depend on your preferences and your landscape.